A BRIEF HISTORY OF HYDROFOILS INCORPORATED AND KENNETH E. COOK, CEO & FOUNDER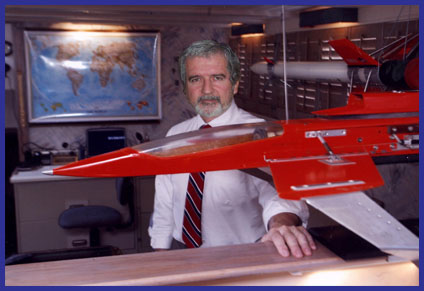 DURING THE 50'S AND 60'S AN INTERESTING SEQUENCE OF EVENTS OCCURRED
Powerboat engine technology began to far exceed control technology
Ken had several personal boat racing accidents in hydroplanes, and has since lost many friends to the sport
The removal of the most elite of powerboats "THE UNLIMITED HYDROPLANES" from his home-town race course in Red Bank, New Jersey — home of the first unlimited class race ever held (between Red Bank and New York) and site of the origination of the American Powerboat Association (APBA)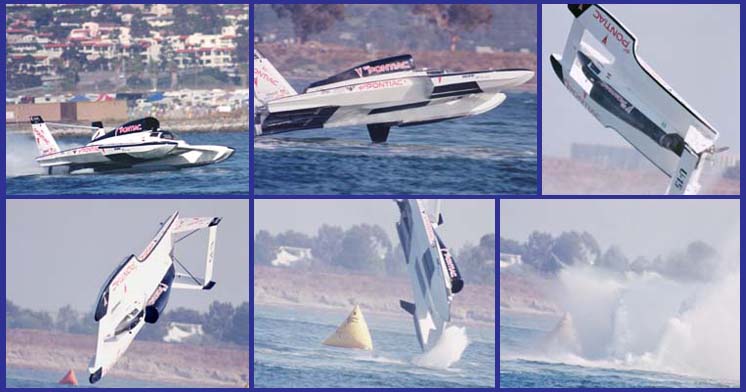 The Unlimited class boats just couldn't control the increased speeds produced by the more powerful engines being developed. In one of these terrible accidents, an unlimited class hydroplane ran up onto the shore at Red Bank and killed several spectators because it could not negotiate the turn, and ran out of water. Blow-overs and kiting were and still are, a common, accepted occurrence in high-speed boat racing, injuring and killing many drivers every year.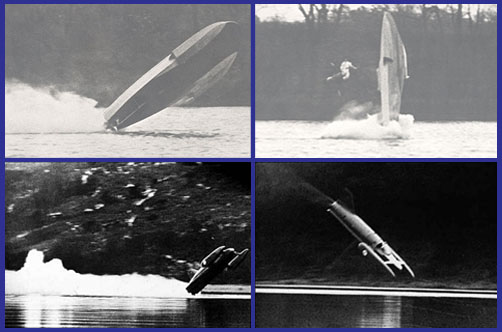 Astonishingly, this technology hasn't markedly improved over the years and the videos and movies of high-speed accidents are the same in 2016 as they were in the 1930s. This racing industry in all classes, from Unlimited to Offshore, Drag Boats, to Outboard Hydros is widely known as the most dangerous of all sports and continues to accept these tragedies as normal.

In the early 1940's, Ken's dad placed him in the seat of the Tempo VI, the premier unlimited of its time, owned by the famous bandleader Guy Lombardo. (Image credit: http://www.seabuddyonboats.com) That simple process lit the spark. "This is what I'm going to do." said a young and determined Ken.
In 1953, after building many hydroplane models, Ken built his first sit in 13 ft outboard hydroplane with a friend with hopes of growing through the ranks to someday become a leader in the unlimited class boats. These small outboards are still used as springboards to both the limited and unlimited racing classes, similar to the way Go-Karts are the starting point, leading to an eventual Indy race car seat at the "Brickyard." For years, Ken drove Outboard Hydros, Jersey Speed Skiffs, Offshore Boats, SK Boats and Limited Hydros.
In response to this unrelenting quest for speed and safety, Hydrofoils Incorporated was formed in Rumson, New Jersey in 1972 primarily as a research and development company for the design, manufacture and testing of advanced high-speed marine vehicles that would exhibit "built-in" self-stabilizing sea keeping performance while traveling at extreme speeds. This research and unique prototype development has generated a great deal of interest within the industry. In 1974 Ken produced and demonstrated (by invitation) the first hydrofoil to exceed 100 mph for the Society of Naval Architects and Marine Engineer (SNAME) at the Advanced Ships Conference in San Diego, California. This design is still currently the world's fastest hydrofoil having exceeded 130 MPH in 1976. His developmental progress has been published in industry journals and periodicals worldwide and Ken is considered the world's foremost authority on supercavitating hydrofoil design. The company has concentrated on all forms of vehicles using high-speed supercavitating hydrofoils and is currently conducting open water tests of unmanned, remotely piloted hydrofoils with top, controllable speeds. Some of the tests involve vehicles well over mach 1. Ken is thoroughly committed to bring safety, control, and reliability to extremely high performance advanced marine vehicles and provide a stabile platform to enjoy the water at any speed. These vehicles truly address and correct the deficiencies found in all other high-speed watercraft.
Ken is now a distinguished engineer with a degree in industrial design, and a prominent history of producing high technology products for market using the most advanced systems available. His many years of precision machine tool and capital equipment development and production for companies like Motorola, IBM, Harris, Pratt and Whitney, Bendix, Smith and Wesson, and NASA allow him to remain on the cutting edge of the highest design and manufacturing technologies available. Ken has numerous "Design Originals" including the first miniature resuscitator used in space shuttles; the first Doppler radar speed-measuring device; the first chemical alcohol-measuring device (Breathalyzer) and the first hydrofoil ever to exceed 100 mph. His work is published worldwide and includes an engineering "Best Paper Award," an "Outstanding Achievement Award," and two "Six Sigma Quality and Engineering Awards". Ken also holds many US Patents.
Featuring the original 16' Zytiron Hydrofoil boats, 60″ Gas and Nitro Hydrofoils, the popular 24e Fast Electric Zytrion Hydrofoil including a brushless version and a 24″ rocket powered hydrofoil – the only one in the world!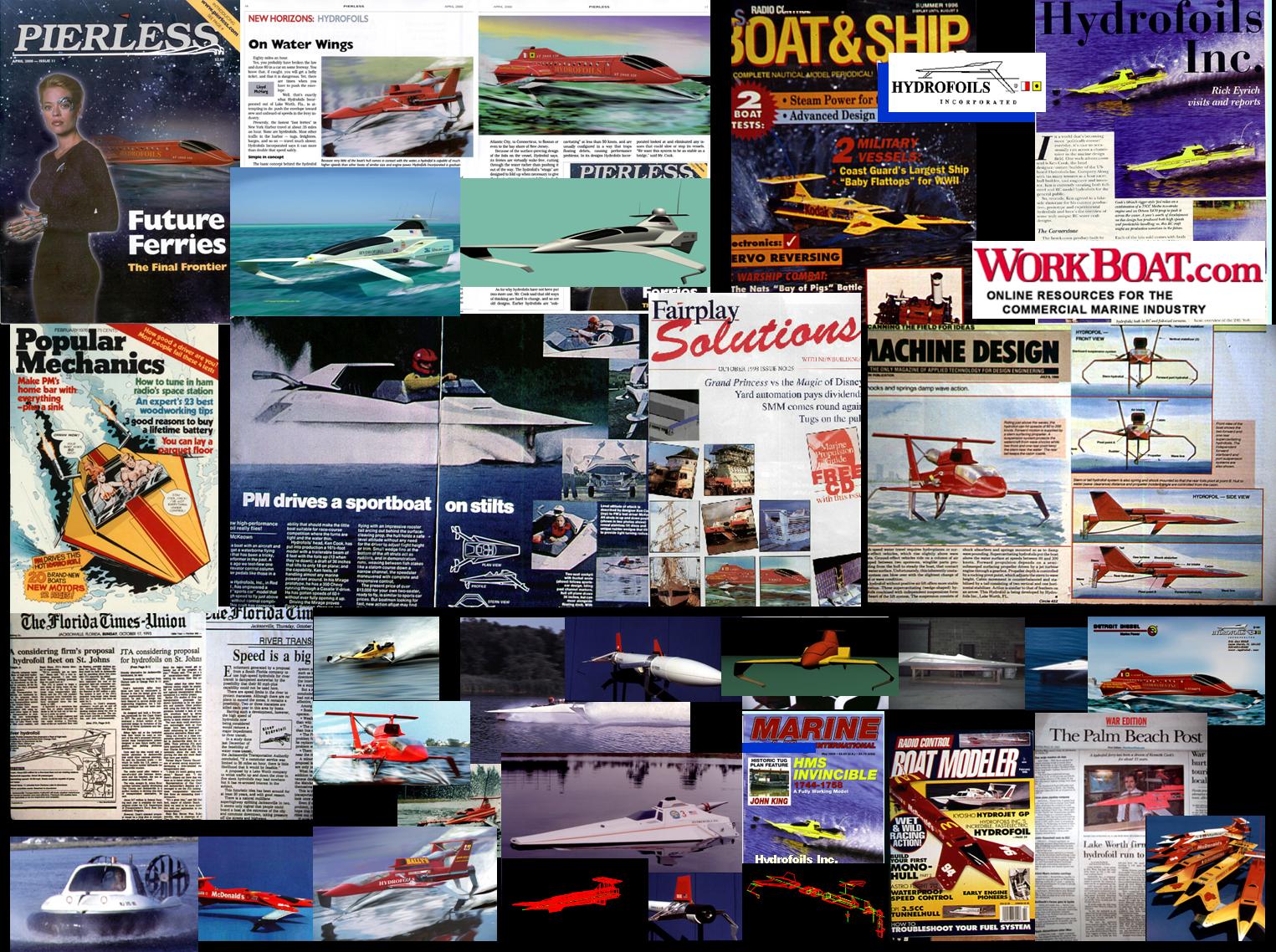 2003 Publication: March 20 "THE PALM BEACH POST' Business Section (D) front page full color article
2000 Publication: April, issue II "PIERLESS" Front cover and center article 100 kt FUTURE FERRIES
1999 Publication: June Eaglemoss Pub. "TECHNOQUEST" Magazine article UK 24E & 60G Hydrofoil
1999 Publication: May "MARINE MODELING INTERNATIONAL", Magazine article High- Speed Hydrofoils
1999 Publication: April Magazine article "ASIAN SHIPPING" Hong Kong Fast Ferry Hydrofoil
1998 Publication: December Magazine "CRUISE & FERRY INFO", Sweden (p29) 100 kt Ferry Hydrofoil
1998 Publication: November Magazine article "MARINE DIGEST" (p 36), 100 kt Ferry Hydrofoil
1998 Publication: October Newspaper article Greece, Fast Ferry 100 kt Hydrofoil
1998 Publication: October "FAIR PLAY SOLUTIONS" Issue #25 Fast Ferry, UK The 100 kt Hydrofoil
1998 Publication: Spring "INTERNATIONAL HYDROFOIL SOCIETY NEWSLETTER" 100 kt Hydrofoil
1997 Publication: December "R C BOAT MODELER" Periscope "Gasoline-Powered"
1997 Publication: Summer issue United Kingdom "MODEL BOATS". Front Cover Hydrofoil article
1996 Publication: August "US BOAT AND SHIP" Front Cover Hydrofoil article
1996 Publication: February "RC BOAT MODELER" Front Cover Hydrofoil article
1995 PATENT: 5418688 May 23. "Three Dimensional Board reflow laminated"
1995 Publication: August "RC BOAT MODELER" Hydrofoil article
1995 Publication: May "RC BOAT MODELER" Hydrofoil Testing
1994 PATENT: 5329870 July 19. "Watercraft with Vertically Movable Hydrofoils"
1994 PATENT: 5320561 June14."Connector for providing programming testing and power signals"
1994 Award: Motorola Advanced Manufacturing Technology Symposium "Best Paper Award"
1994 Publication: "RC BOAT MODELER", Model Retailer
1993 Award: Products Group "Engineering Award" .017 Fine Pitch LCD Heat Seal Connector
1993 Publication: "THE FLORIDA TIMES UNION" Sunday, October 21 JTA – Hydrofoil
1993 Publication: "THE FLORIDA TIMES UNION" Sunday, October 17 JTA – Hydrofoil
1992 PATENT: 5159171 Oct. 27 "Laser solder printing", (Pager, Battery eliminator/programmer)
1992 Publication: November "BOATING WORLD" Top Designers Eye the Future
1991 Awards: August Motorola " Engineering Award". May "Distinguished Innovator Award"
1991 Publication: May "RC BOAT MODELER"
1990 Publication: September "POPULAR MECHANICS" "Great Gadgets And Gizmos
1990 Publication: May "RC BOAT MODELER" Periscope Red Water Spider
1990 Publication: April & March "MACHINE DESIGN", "High speed hydrofoil
1990 Publication: "MOTOR BOAT & YACHTING", England (May), "SOUNDINGS" (July)