50T – HIGH PERFORMANCE – TWIN TURBINE HYDROFOIL
---
50T Frequently Asked Questions
How fast? 
This high-performance vehicle will cruise comfortably at 90 MPH with top speeds 20% better than equal size/powered catamarans or "V" hulls.
How is the ride?
These boats are much more comfortable than equal length displacement hulls such as catamarans or deep V hulls. The main cabin travels above the water at speed and provides a very smooth and accurate ride with no drift or kiting, and is much more like a performance car than a boat. The design is luxurious, plush, and comfortable with ample outside vision for all passengers. The interior lighting is bright and clear.
Do they use a lot of fuel?
The 50T is approximately 20-30% more efficient than other, equal size/power high-speed marine vehicles. The main cabin rides above the water at speed with little displacement. Displaced water is a wake and a wake is a sign of wasted energy and wasted money.
Is it safe?
The 50T has fully awash flotation, will float with the hatches open, and exceed all USCG Requirements. They are much safer than other boats since engines, fuel, ac units, batteries, and their associated noise, heat, and safety concerns are located outside the main hull (aircraft style) in interchangeable engine modules.
What if you hit something?
Our foils are not like the older hydrofoils that were straight down and would break or trap debris. We solved this many years ago with aft swept, shock-mounted foils that ride up and over even immovable objects.
What are the specs of the 50T Interceptor?
You can download a PDF of the specsheet here.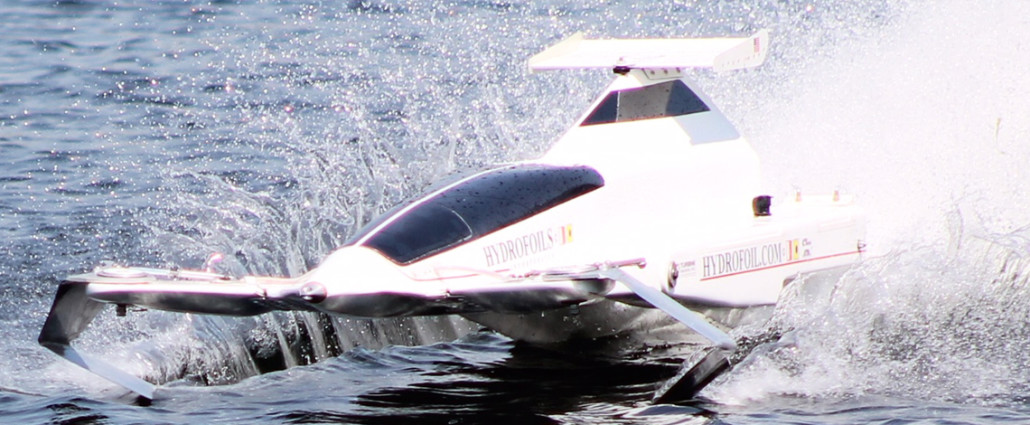 What about maintenance?
Engine maintenance: Oil & filter change and routine service per engine manufacturer.
Hull maintenance: water wash down, with normal maintenance & housekeeping.
Are these boats reliable?
We use self-clearing foils with no foil damage from debris or beaching, and two proprietary quick-change engine modules to produce an extremely reliable system.
Delivery time?
Build time for a finished, running 50-foot boat is approximately 12 months ARO (After Receipt Of Order).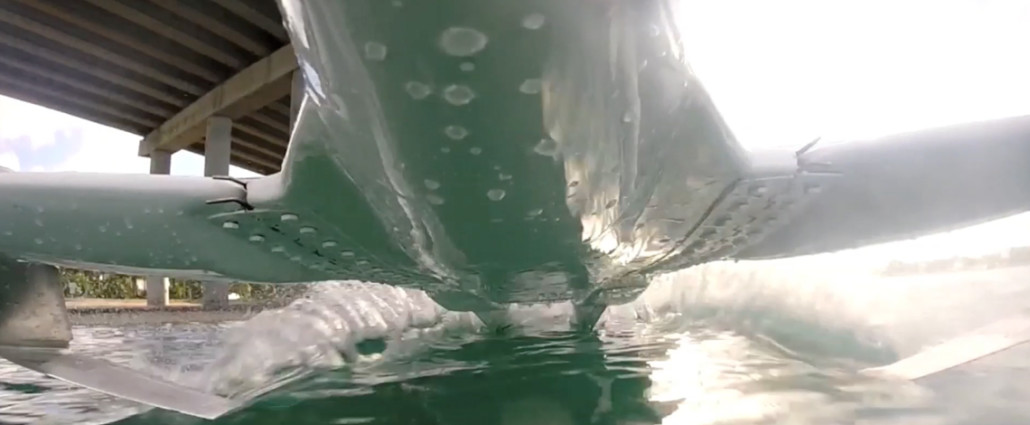 What is the draft? 
The draft is eighteen inches static and just twelve inches running.  A typical cruising yacht of this size has at least four feet of draft. These are shallow water vehicles and with our "fold in flight"  foil technology this boat can go where most other boats this size can't, allowing for enormous new areas to explore and enjoy.
What is it made out of?
Hull: Carbon fiber epoxy (CFE) composite.
Foils and Hardware: Aluminum and Stainless Steel.
What engines are used?
The 50-foot vessel will be powered by twin 1800hp gas turbine/electric hybrid engines built by Turbine Marine Incorporated. This combination will provide a total of 3600hp for maximum cruising speed and up to 400hp of eco-friendly electronic drive for silent harbor maneuvering.
What drive system is used?
We use a proprietary design by Hydrofoils Incorporated that includes adjustable oil lubed, water-cooled shafts with a "V" drive that powers twin surfacing props. The design utilizes hardware that is normally subject to more than double the stress under extreme racing conditions and is well tested and proven.
What kind of foils?
The foils are an exclusive patented inherently stable supercavitating system, with over 60 years of tests and development. They are self-clearing (will not trap debris or rope). They automatically control pitch, yaw, roll, and height off water, and are easy to operate. The boat does not need to be flown. Throttle and steering is all that is required.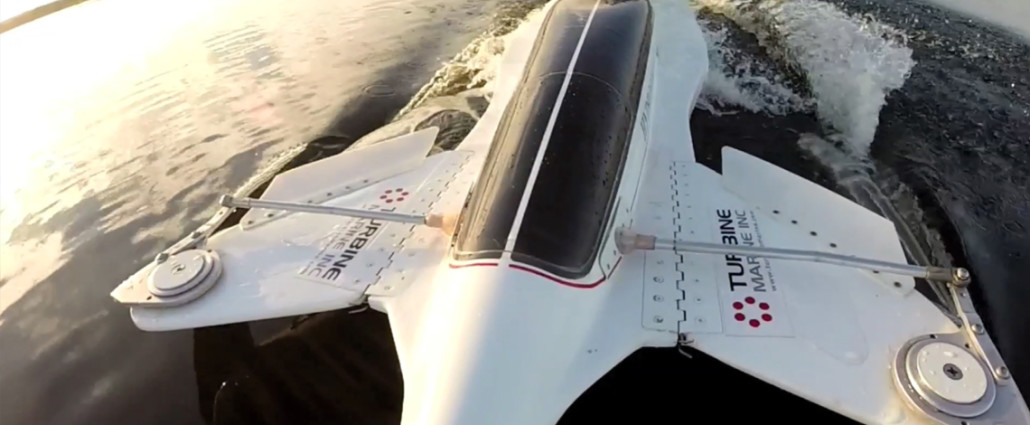 Is there a Galley?
Yes the galley has a sink (salt and fresh water), microwave, and cooler.
What is the fresh water capacity?
There are two twenty-five gallon fresh water tanks on board.
Is there a head (bathroom)?
Yes, The head has a sink, shower, and wastewater treatment.
What about Air Conditioning?
There are two marine reverse cycle (hot and cold) air conditioners and heaters.
What about navigation?
Full electronics package includes computer navigation, radar, E-Charts, GPS, high speed compass, autopilot, depth finder, VHF marine radio, loud hailer fog /pa/intercom, horn, two cameras (docking, entertaining, security, trip recording) and two flat screen LED displays. Many other options are available and encouraged.
Is there an entertainment system on board?
Yes. The complete entertainment package includes a twelve speaker state of the art sound system, two LED flat screen monitors with DVD and satellite TV.
Where is she manufactured?
The 50T is made in the US, by Hydrofoils Incorporated.
The above statements are general recommendations. Each individual contract will define the owner's finished craft.